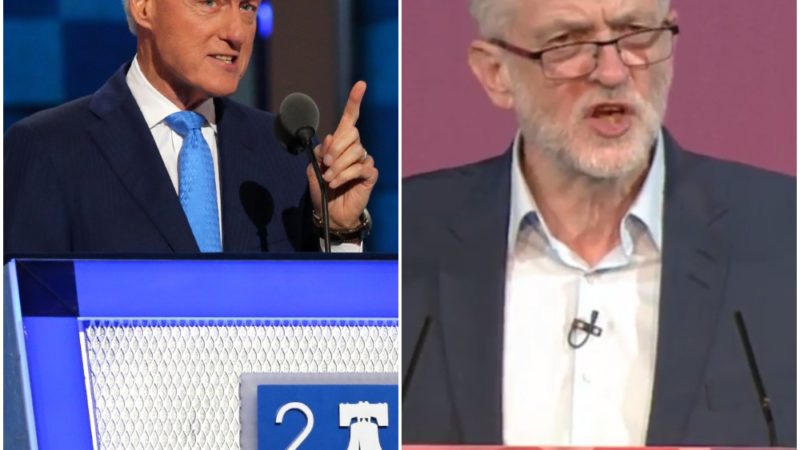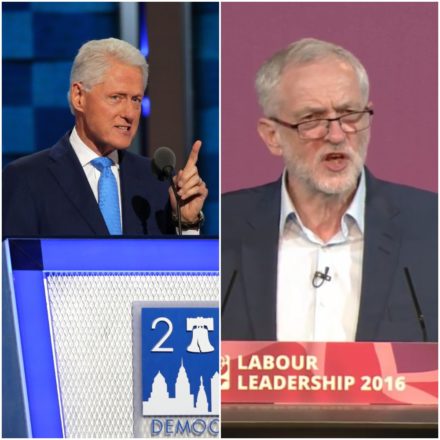 I watched the first televised hustings of the 2015 Labour leadership contest with a friend who had just signed up as £3 supporter. He had a vote, but didn't know who he would be supporting.
A true swing voter, I was keen to canvas his opinion as the Newsnight credits rolled following the debate. He would be my focus group of one. "The one I thought was most likely to win an election was Liz Kendall," he told me. "But the one I agreed with most was Jeremy Corbyn." He left, unsure who he would eventually be casting his ballot for.
Just a few weeks later, he'd made up his mind. None of them could win an election, he'd concluded, and so he'd vote with the person who would reliably argue against austerity and inequality – and importantly, would look like they meant it. He'd vote for Corbyn.
My focus group was a complete success.
Now, I don't think twice elected American President Bill Clinton has ever met my friend Tom, but he summed up his reasons for supporting Corbyn pretty well. In a private speech he made in October last year, and leaked online today, the former POTUS said: "When people feel they've been shafted and they don't expect anything to happen anyway, they just want the maddest person in the room to represent them".
While many have taken this to be disparaging about Corbyn, it's fairly clearly from the context what he meant. The comment comes between a remark about the rise of Syriza and one about the cost of living in America, and just three sentences before he references Labour members being "mad" (ie. American for angry) at David Miliband over his support for the Iraq War.
What Clinton was saying is that of the four candidates in last year's leadership race, Corbyn was the one who most encapsulated the anger of voters who felt they had "been shafted".
Clinton is obviously no Corbyn fan – he is dismissive of the conclusion Labour lost last year because it "hadn't moved far left enough", and says that the party "practically got a guy off the street" when electing the backbencher of 32 years to the leadership – but that doesn't make him wrong.
His analysis, which he gave at private Hillary for America fundraiser during the race to become the Democratic nominee, is actually quite important, because it tells us something about his wife's candidacy. These were not comments made in the context of the Hillary Clinton v Donald Trump election reaching its conclusion today, and so his reason for mentioning Corbyn at all is not to make comparison, as some have done, with the Republican candidate.
Rather, it was about the battle between Hillary and Bernie Sanders, the man many see as America's own Corbyn. What was being spelled out at that Maryland fundraiser last autumn was that Sanders was tapping into a larger, international anger about the effects of globalisation on the working poor, and that the Clinton campaign wasn't going to dismiss it. Therefore, a greater emphasis was placed on Hillary's progressive credentials. In the speech, Bill raised the criticism the criticism that his wife is "faking her concern for social justice and equal opportunity". After reeling off a list of her achievements in politics in the 40 years of their marriage, he joked: "If this is not real, it's been a long-running show."
What it led to was what Sanders himself has called "the most progressive platform in the history of the Democratic Party." Hillary Clinton is running raising the minimum wage and taxes for the rich, as well extending Obamacare. She carried on that not just to see off Sanders, but into the race against Trump too, knowing that his position of railing against "elites" could appeal to many of the voters that would otherwise assure her victory.
Yet many of the critiques of the American election from the left on this side of the Atlantic run along the tired old "lesser of two evils" line, and point to her long-standing "establishment" status for her unpopularity. The strategy, then, may not have worked perfectly. But it did exist.
What Bill Clinton said about Corbyn wasn't because he didn't take the Labour leader seriously, but because he does. And it could shape the next four years in the White House.
More from LabourList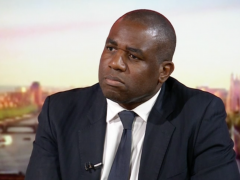 News
Sunday Morning Shadow Foreign Secretary David Lammy rejected the suggestion that Labour would enter into an electoral pact…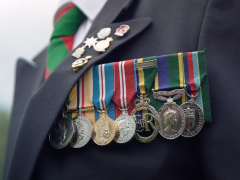 Comment
The first duty of any government in the UK is to protect our nation and its citizens. Whether…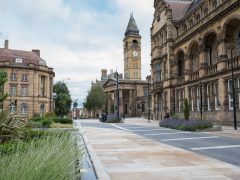 Comment
Labour won a historic by-election in Wakefield, our first such victory since winning Corby in 2012. This success…