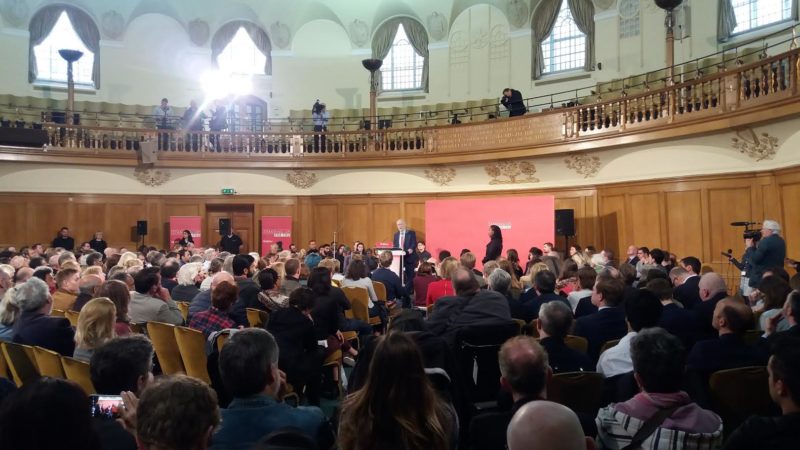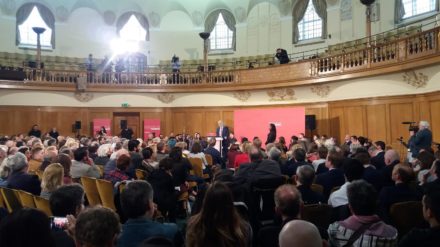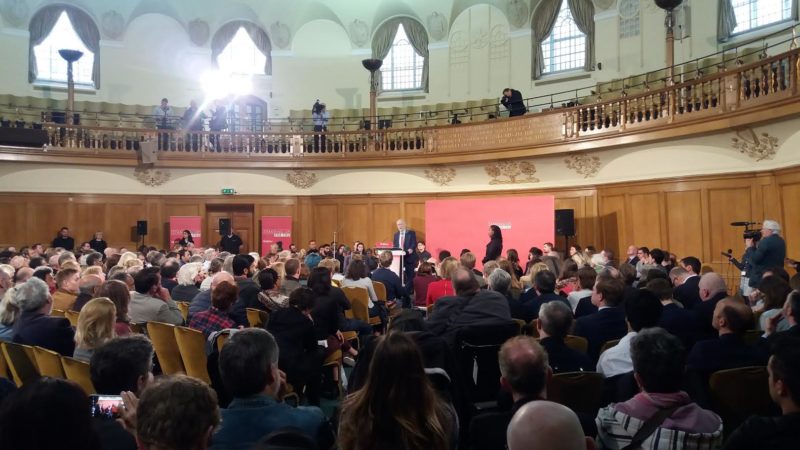 This was Jeremy Corbyn's blueprint for the next six weeks – or rather his election plan delivered in a deep shade of red.
His speech was a scathing assessment of "the establishment"; a pledge to overturn the "rigged system"; cheering crowds; a few jibes against the media; and, in a nod to Labour's precarious position in the polls, a vow that this election is not a "foregone conclusion".
It set the tone for what we can expect from Corbyn's campaign. It was passionate and principled – but there remain huge questions if it can shift Labour's level of support.
Corbyn's pitch is clear. The anti-establishment rhetoric that fired his new year "relaunch" will provide the backbone of his campaign to be prime minister while the volley of policies – rolled out before Easter in the run-up to council votes – can now be reeled off as part of his manifesto.
But the speech at Church House, in London, went beyond free school dinners and curbing the culture of big business late payments. He castigated the Tories and their banker allies once again in terms that got the crowd cheering.
"It was their wealthy friends in the City who crashed our economy," Corbyn said.
"How dare they ruin the economy with their recklessness and greed and then punish those who had nothing to do with it? It was not pensioners, nurses, the low or averaged paid workers or carers who crashed the economy."
It was a world away from the years when Tony Blair and Gordon Brown posed with denizens of the square mile and reassured the business community that the economy would be safe in their hands.
Blair and Brown delivered the longest period of uninterrupted growth for 200 years – but it was brought to an abrupt halt by the financial crisis.
Now Corbyn has put chief executives on notice that things will change if he makes a surprise transition to Downing Street – and he picked out a few individuals he had in mind.
"If I were Southern Rail or Philip Green, I'd be worried about a Labour government. If I were Mike Ashley or the CEO of a tax avoiding multinational corporation, I'd want to see a Tory victory," he said.
"Why? Because those are the people who are monopolising the wealth that should be shared by each and every one of us in this country."
There were echoes of Ed Miliband's "predators vs producers" speech from party conference in 2011. It is no wonder that Corbyn's approach has been dubbed "Milibandism on steroids", because the leader's policies often seem a ratched-up version of those developed by his predecessor.
Of course, Miliband lost his general election, despite some radical ideas to reshape the economy. Now Corbyn faces a huge challenge to overturn the polls and the bookies' predictions of a Labour defeat.
Today Corbyn was confident and looked more at ease when answering questions. He finished with an appeal that from any other leader would have been described as a soundbite: "We are bigger than we have ever been, stronger than we have ever been and more determined than we have ever been".
It was an attempt to harness the underdog spirit – which, as he reminded us, propelled him from 200/1 outsider to Labour leader two years ago.
A general election provides a very different electorate, however, as well as unprecedented media scrutiny. A few of Corbyn's fans booed ITV's Libby Wiener when she cited the polls and asked if Corbyn was part of the "Islington elite". Such behaviour is pointless, however, because the political correspondent was just doing her job.
The party leader said nothing to prompt the boos but, with politics more presidential than ever before, Corbyn can expect more rough stuff – and will need to show he respect the rights of a free media.
He will also need to demonstrate to millions of voters he understands their worries about the Tories – beyond concern over the future of the NHS and the scourge of low pay.
It represents a huge task for Corbyn but, in coming out swinging against the establishment, he has sent a very clear message that this will be a campaign carved in his image.
More from LabourList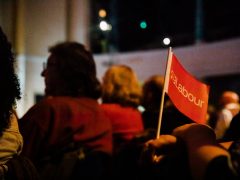 News
New guidance issued by Labour for selecting parliamentary candidates ahead of the next general election is set to…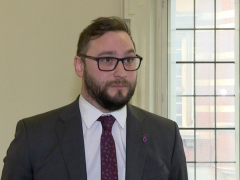 News
Christian Wakeford today defected from the Conservatives to the Labour Party. Some have wondered whether his politics fit…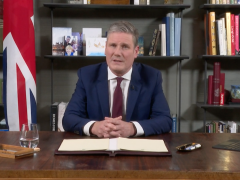 News
Keir Starmer has used a party political broadcast this evening to urge the public to "call time" on…