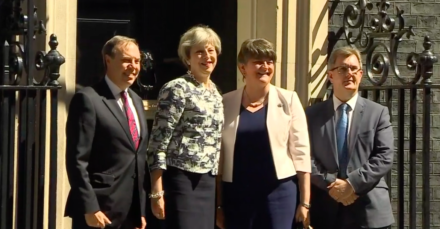 Theresa May's reluctance to welcome the result of the Irish referendum on abortion is no coincidence. After a landslide victory for the 'Yes' to repeal campaign, attention quickly turned to Northern Ireland, where the Abortion Act 1967 does not apply.
But the Prime Minister is in the pocket of the DUP and needs her ill-advised pact with the right-wing, anti-abortion party to continue unless she is willing to see her government collapse. And, just like in Stormont talks to restore power-sharing, DUP leader Arlene Foster won't budge: she says abortion is a devolved issue. May has agreed the matter is up to the Northern Ireland Assembly.
As Patrick Maguire points out in the New Statesman, it doesn't look like power-sharing is coming back any time soon (a fact not unconnected to the Tory-DUP confidence and supply deal in Westminster) so Foster and May know full well that they are pointing towards a dead end.
There is now an absurd – and sad, and infuriating – situation whereby both Ireland and the rest of the UK will have more relaxed abortion laws than in Northern Ireland. In one part of the UK, women's rights are being sacrificed so that Theresa May can cling on to power.
Over the weekend, Shadow Attorney General Baroness Chakrabarti told the BBC: "We are calling on Mrs May, a self-identifying feminist, to negotiate with the parties in Northern Ireland and then to legislate without further delay." (The qualifier "self-identifying" is key here.)
Labour is unambiguously calling for Westminster to take action, and backbencher Stella Creasy wants to force a vote on it by tabling an amendment to upcoming domestic violence legislation. The Opposition is not calling for a referendum, which the Progress/Labour First NEC candidates have told the Guardian would be "fundamentally wrong". It isn't constitutionally required as it was in Ireland, and wouldn't be binding.
As I wrote on Friday, we must look at the Abortion Act itself too. Is it good enough? In order to get an abortion, women in England and Wales still need two doctors to agree, before the 24th week, that "continuing the pregnancy would involve greater risk than termination to the physical or mental health of the pregnant woman or any of her existing children". Labour MP Diana Johnson has been doing fantastic work in this area, having recently introduced a bill that would decriminalise abortion.
On Sunday, Shadow Women and Equalities Minister Dawn Butler said: "Labour's manifesto commits to working with the Northern Ireland Assembly to bring about these changes and we want to see the Assembly reconvened to make such important decisions, but nearly eighteen months on, women in Northern Ireland should not have to suffer in its absence." Senior Tories including Penny Mordaunt, Amber Rudd, Justine Greening, Nicky Morgan and Maria Miller have called on the PM to back reform in Northern Ireland too. The pressure is on for Theresa May to put women first.
In other women's rights news, I've written up my 'alternative Jack the Ripper tour' with Welsh Labour deputy leader Carolyn Harris. The MP, a member of the Shadow Equalities team, talked about survival sex, the Nordic Model and her latest campaign ideas. Almost all the party can get behind the current frontbench line on abortion in Northern Ireland, but this subject is more controversial. Although Jeremy Corbyn and John McDonnell are thought to back full decriminalisation, many Labour MPs support alternative legal options that criminalise sex buyers. Determining Labour's position on prostitution or sex work (even naming the issue is fraught with contention), whenever that time comes, will involve fierce debate.
Sienna @siennamarla
Sign up to LabourList's morning email for everything Labour, every weekday morning.
More from LabourList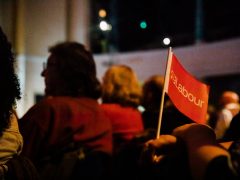 News
Martin Forde QC has sent a letter to members of Labour's ruling body today telling them that his…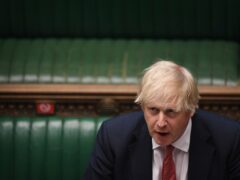 News
Boris Johnson has been warned that his government's planned increase in National Insurance contributions, which is set to…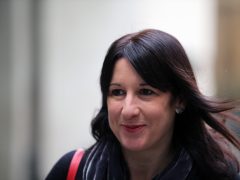 News
Rachel Reeves has declared that a "big swathe or nationalisation" would not be the priority of a future…