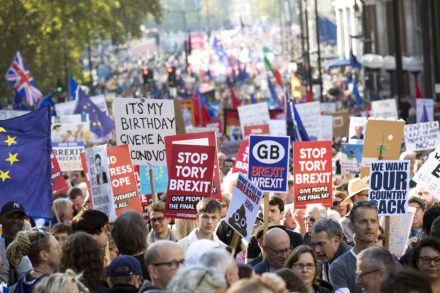 Sign up to LabourList's morning email for everything Labour, every weekday morning.
Over the weekend, around 700,000 people in London campaigned in favour of a referendum on the final Brexit deal. That rainbow coalition of campaigners saw Labour left activists from Another Europe is Possible march alongside remainer Tories like Anna Soubry and, perhaps even more surprisingly, Labour MPs such as Chuka Umunna. Mayor Sadiq Khan, a keynote speaker, said the voice of young people must be heard "loud and clear".
While the march itself was apparently friendly and jovial, arguments escalated online between passionate Labour Remainers, Lexiteers and those from both sides who think backing another referendum is electorally dull-witted. As reports surfaced that shadow cabinet members had been told not to join the demonstration, some party members expressed outrage over Jeremy Corbyn's non-attendance… even though it's clear the lifelong Eurosceptic doesn't support the idea of another referendum.
So, what did this march show? That Londoners broadly don't like Brexit? We already knew that. More interesting is what the effort shows for future movement-building. And Paul Mason's thread of tweets revealed a nuanced take that has, to some extent, brought together opposite sides. He says a soft Brexit deal "would need a second ratification referendum" and that the shadow cabinet should "show empathy and support" for the people's vote campaign. But he also warns that if Brexit is overturned, there will be even bigger marches, and concludes: "It is statecraft, not any secret Lexit strategy, that obliges Labour not to become the Remain Party."
Many of the Labour MPs who didn't march on Saturday had their Leave-voting constituencies and a wider electoral strategy in mind. Lisa Nandy was probably one of them. Today on LabourList, I've written up an interview with Lisa in which we discussed her contribution to Labour's latest party political broadcast, 'Our Towns', whether Jeremy Corbyn's refusal to sing the national anthem means he's not a patriot, a PMQs on bus services that helped change the narrative and how she'll vote on Theresa May's Brexit deal. And plenty more: it's long but, I hope, well worth the read.
Meanwhile, the Prime Minister is having a tough time of it. Nasty Tory MPs have briefed the media using disgusting, violent language about her, as rumours grow that she could be facing a no-confidence vote in the next few days. The government is still in a Brexit crisis centred around the 'backstop' that risks a hard Irish border. Theresa May is expected to tell the Commons this afternoon that "95%" of the Withdrawal Agreement is "settled", but we know she has repeatedly warned: "nothing is agreed until everything is agreed". And there are other big issues still outstanding, from extending the transition period to whether MPs will get a meaningful vote. All could collapse around her this week.
Sienna @siennamarla
Sign up to LabourList's morning email for everything Labour, every weekday morning.
More from LabourList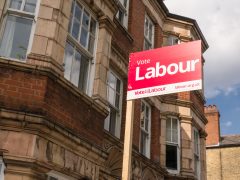 News
Submissions closed at 5pm today for those wanting to respond to the call for evidence put out by…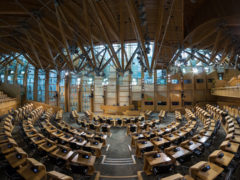 News
Scottish Labour has confirmed that it will be seeking support from other parties and tabling a motion of…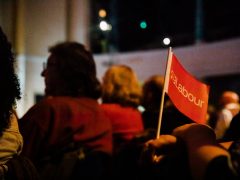 Comment
Sheffield Heeley Labour Party recently held the third of three sessions of an educational programme around antisemitism developed…