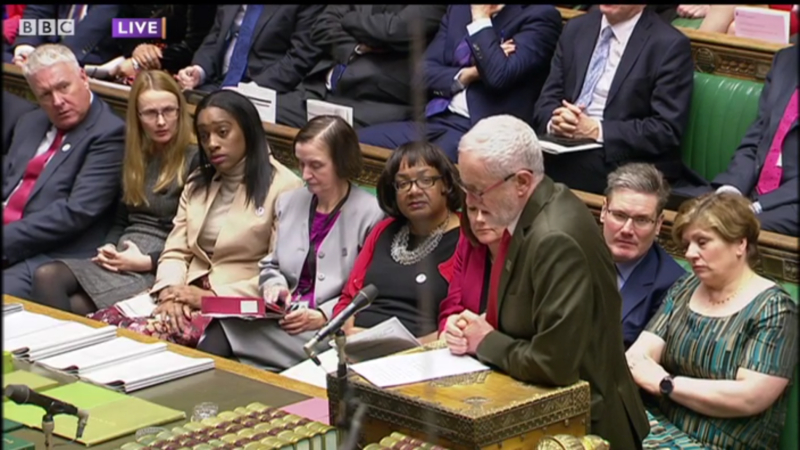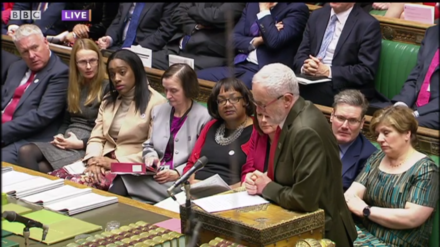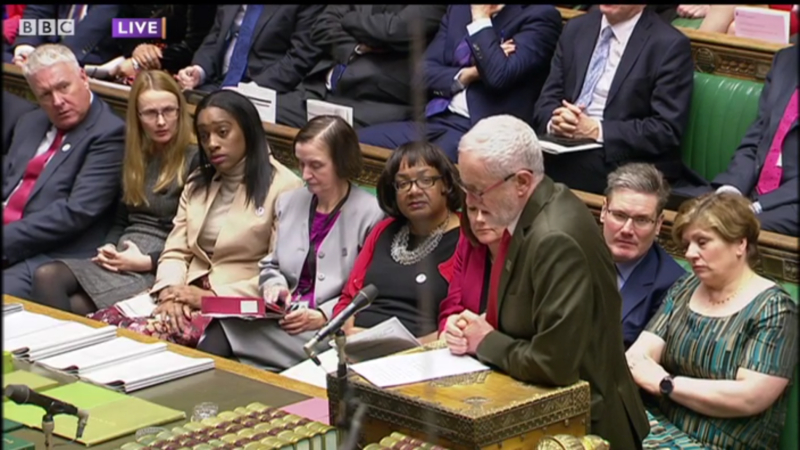 A past leader looks on at his controversial replacement who, now seems to have found some stability after a rocky year.
No, this was not Sir Alex Ferguson's analysis of the progress of Jose Mourinho at Manchester United. It was Jeremy Corbyn's weekly battle with Theresa May which featured an unexpected guest in the form of Ed Miliband.
A lot has been said about what Ed M and JC have in common – a crusading anger over the levels of inequality, disgust at the sneering style of Tories who try to gerrymander politics – but their delivery is remarkably different.
Corbyn, clad in what looked like a smart new brown suit, asked his trademark lengthy questions full of policy points with a few political jibes thrown in.
Miliband went about things in a different way. When he stood up from his perch on the backbenches he was greeted with the cheers sometimes awarded to former leaders and then piled in on two of his long-term interests: America and climate change.
"It brings back memories," he said, grinning at his reception.
"Can I say to the prime minister that as the first foreign leader to meet President Trump, she carries a huge responsibility on behalf not just of this country but the whole international community in the tone that she sets. Can I ask her to reassure us that she will say to the president that he must abide by and not withdraw from the Paris climate change treaty and in case it is helpful can she offer the services of UK scientists to convince the president that climate change is not a hoax invented by the Chinese?"
It was serious stuff, simply expressed. He looked calm and comfortable with his question and, while he doesn't go in for point-scoring in the same way as when he stood at the despatch box, he tapped into anxieties felt across the left: Trump on climate change, Trump on most things, and just how close May will be to the new American leader.
Corbyn instead went on the Tories' latest travails over Brexit. Quite right – but he appeared to be wrong-footed by the PM's previous answer to one of her own side when she agreed to publish a white paper on Brexit.
This was a climbdown for May, who has given in to demands from her rebellious backbenchers yet again, but it came in response to what looked like a planted question. Corbyn went on to demand that May name the date when the paper would be published – she couldn't, as always, because she tends not to bother with answers, but the exchange exposed the risk facing any leader of the Opposition. A morning of prep can be wiped out if the prime minister makes an announcement – or "commits news", as the spinners say – that changes the political agenda.
Of course, Corbyn has improved over the last year, and sounds stronger now that he has uses fewer of the questions sent in by voters around the country, but he still has the habit of reading from notes. This leads him into lengthy responses and forces him to look down, making it harder to deliver the punchy pay-off for the television cameras.
"How confident is she of getting a good deal for global Britain from a president who wants to put America first, buy American and build a wall between his country and Mexico?", he asked May.
"Article 50 wasn't about a court judgement against this government. What it signified was the bad judgement of this government. The bad judgement of prioritising corporate tax cuts over investment in national health and social care.  The bad judgement of threatening European partners whilst offering a blank cheque to President Trump. The bad judgement of wanting to turn Britain into a bargain basement tax haven. So will she offer some clarity and some certainty and withdraw the threats to destroy the social structure of this country by turning us into the bargain basement she clearly threatens?"
When Miliband was leader he regularly got the better of David Cameron – perhaps because he was more confident amid the noise of the Oxbridge-style debating chamber – and was able to expose Dave as an arrogant chap who didn't always bother to do the detail.
Corbyn, by contrast, adopts a less adversarial approach, although he has managed to lure May into a few mistakes, such as her blithe dismissal of the NHS winter crisis as a "small number of incidents" at the start of the year.
As well as pressing on Brexit, he laid into the reality of life for the low-paid in Tory Britain and deployed his new favourite line.
"The threat to workers' rights is there every day: six million earning less than the living wage, many people, nearly a million, on zero-hours contracts with no protection being offered by this government. What they're doing is offering, once again, the bargain basement alternative," he said.
Corbyn has a point here. Worries about the bond between the elected leaders of Britain and the US as are as old as the relationship itself. The buccaneering style of Trump,and the pledge of both a trade deal "done quickly and done properly" and the promise of "America First", are enough to deepen fears about the Republican across British politics.
Would May rule out "offering up for sacrifice" elements of Britain's public services and NHS to American companies as a "bargaining chip" in a deal? It was a decent question but not one, perhaps, that moved on Labour's argument beyond oft-repeated concerns about privatisation and the health service.
So whose questions worked better, Corbyn or Miliband? There is no point going down that route – Ed M isn't running for PM and has provided his advice to Jeremy, as many of us have done in public. There are a few lessons the current leader could learn from one of his predecessors – about being confident, and about being quick. May was slightly better than normal today while Corbyn was passionate rather than precise.
The prime minister's weaknesses – on Brexit, on the economy and on leadership – are becoming clearer every day. Corbyn must hold them up for all to see with clear and concise questions.
More from LabourList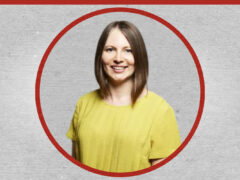 Comment
Labour's national executive committee met for an almost recording-breaking nine hours and 16 minutes on July 20th. We…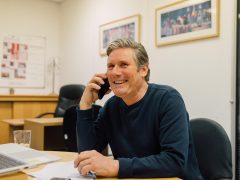 News
The reshuffle of Keir Starmer's top team has made further progress today with the announcement that chief of…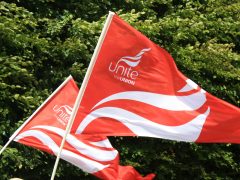 Comment
During the Unite general secretary election, LabourList has published comment pieces by Jack Dromey endorsing Steve Turner and…