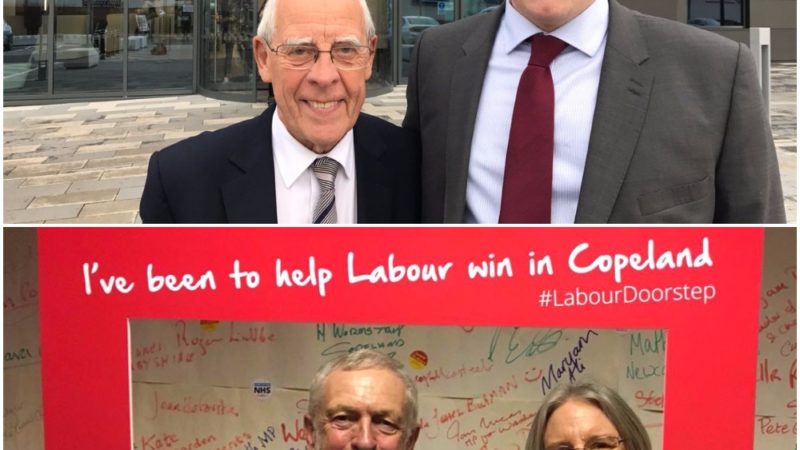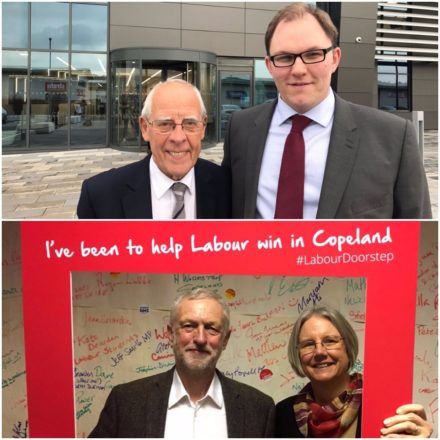 3.20 I'm going to bed. The result in Copeland of course overshadows Labour's win in Stoke – as it rightly should, it is a historic failure. Gillian Troughton fought a good campaign, and it is clear that the recriminations from this night shall reverberate for the weeks and months to come.
3.15 Liz McInnes tweets:
Awful result from #Copeland. Just gives the Tories the message that they can destroy our NHS with impunity.

— Liz McInnes (@LizMcInnesMP) February 24, 2017
3.10 John Curtice, speaking on the BBC, says that the swing to the Conservatives in Copeland is indicative of a stronger lead for the government than the polls are suggesting. A reminder, that earlier this week one poll gave the Tories an 18-point lead.
3.05 Lillian Greenwood tweets:
Commiserations to @GillTroughton who can hold her head high & to her excellent campaign team, especially those who gave up Christmas hols https://t.co/hnyO1upTKL

— Lilian Greenwood (@LilianGreenwood) February 24, 2017
2.57 Here's the results in full: Trudy Harrison, Conservative 13,748; Gillian Troughton, Labour , 11,601, Rebecca Hanson, Lib Dem, 2,252, Fiona Mills, UKIP, 2,025, Jack Lenox, Green, 515; Michael Guest, Independent, 811; Roy Ivinson, Independent, 116
2.56 Here's Jeremy Corbyn's statement after that announcement: "Labour's victory in Stoke is a decisive rejection of UKIP's politics of division and dishonesty. But our message was not enough to win through in Copeland."
"In both campaigns, Labour listened to thousands of voters on the doorstep. Both constituencies, like so many in Britain, have been let down by the political establishment."
"To win power to rebuild and transform Britain, Labour will go further to reconnect with voters, and break with the failed political consensus."
2.53 Especially worryingly, the margin of victory for the Tory was over 2000 votes – so not even particularly close.
2.52 Conservatives gain Copeland from Labour.
2.49 Candidates on the stage now in Copeland
2.46 BBC making the important point that any intelligence coming from Copeland is likely to be less reliable, as standard arms of party campaigning machinery less possible in such a geographically vast seat. Let us hope that this means that noises that Labour have lost are incorrect.
2.45 Channel 4's Fatima Manji tweets:
Standby – for #Copeland result in five minutes

— Fatima Manji (@fatimamanji) February 24, 2017
2.40 Now, there is another by-election result due to come in tonight. Copeland should declare within the hour, but the meaning of imminent gets stretched so much on nights like this that it becomes quite meaningless.
2.26  "So for those who have come to Stoke-on-Trent to sow hatred and division, and to try to turn us away from our friends and neighbours, I have one message – you have failed." – read the new Stoke MP Gareth Snell's victory speech here.
2.22 Snell delivers a unifying victory speech, vowing to be an MP for all Potters. He says the city does not want to be defined solely by the Brexit vote.
2.20 The vote change in Stoke was -2 points for Labour, +2 for UKIP and the Tories, +6 for the Lib Dems and -1 for the Greens.
2.17 Jeremy Corbyn has said in a statement: "Labour's excellent campaign has won a clear victory in an election UKIP and the Tories threw everything at."
"Stoke has rejected UKIP's politics of division and dishonesty. UKIP's claim to represent working class people has been exposed as a sham."
2.15 Snell's majority is 2,620 – for comparison, Tristram Hunt had a 5,179 majority. However, as a percentage I suspect Snell's is roughly comparable to Hunt's.
2.11 Just to clear up numbers so far: Labour 7,853, UKIP 5,233, Tory 5,154, Lib Dem 2,083, Green 294
2.10 Labour win Stoke-on-Trent central. 
2.05 Candidates being gathered in Stoke, declaration imminent.
1.55 Sources confident of Labour win in Stoke, with UKIP maintaining their second place, the Conservatives third. Suggestions that the Lib Dems have roughly doubled their vote share, despite this being a heavily Brexit-backing seat.
1.45 Well, no comment.
No wonder they gave him that PhD https://t.co/lC4l2Ad5Ef

— Jess Phillips MP (@jessphillips) February 24, 2017
1.40 Buzzfeed's Jim Waterson has news from Copeland. The speculation should come with a heath warning for Labour members:
Copeland speculation chatter to keep you going: Tories by 1,000 votes says one Tory, Very close says Labour.

— Jim Waterson (@jimwaterson) February 24, 2017
1.35 Speaking to Snell earlier this week, it was clear to me that he is in the fight for the long haul, and is keen to engage with non-voters. You can read more here.
1.30 Paul Nuttall is arriving at the Stoke count.
1.25 Rapper Professor Green is at the Stoke count. He's apparently filming for a documentary.
1.23 Snell and Ruth Smeeth have arrived at the Stoke count, a strong indicator that an announcement is imminent.
1.21 Looks like we could be getting a result from Stoke soon, ballots all neatly stacked.
1.20 Worth remembering quite how unusual the uncertainty around tonight's results actually is. Ordinarily, you'd expect an opposition party defending two seats that they've held for decades to handily win – perhaps increasing their majorities. However, these are not ordinary times, and Labour is currently far behind the Tories in the polls – one poll earlier this week handing Theresa May's government an 18 point lead.
1.10 Suggestion we might now hear the Copeland result sooner than expected, perhaps even between 2.00 and 2.30.
1.00 Enjoying our journalism? If you love Labour and want to support the best blog dedicated to the party's people and policies then donate here.
12.55 Here's a cheering image from Stoke:
So which has the bigger pile as the count gets underway ! #stokebyelection pic.twitter.com/cJPakVsMiV

— Alison Mackenzie (@Alison1mackITV) February 24, 2017
12.50 Copeland's turnout of 51.35 per cent is second only to Richmond Park, 53.44 per cent, for by-elections this parliament.
12.45 Last week the UKIP leader, and their candidate in Stoke, Paul Nuttall had a week to forget, where he went AWOL, insulted the memory of Hillsborough and had his ability to vote in the seat thrown into doubt. You can read all about it here.
12.35 Our editor Peter Edwards wrote a piece on Westminster's neglect of Copeland, you can read it here.
Copeland's turnout figures are in:
Turnout in #CopelandByElection has just been confirmed as 51.35%

— Copeland Council (@copelandbc) February 24, 2017
12.25 Tom Watson, Labour's deputy leader, tweets:
Well @GillTroughton and @gareth_snell, we're all very proud of you and your campaign teams. Whatever the results, thank you.

— Tom Watson (@tom_watson) February 23, 2017
Guardian's Jessica Elgot tweets:
BREAKING: Turn-out is 38.1% in Stoke, much higher than expected. Voters defy #stormdoris

— Jessica Elgot (@jessicaelgot) February 24, 2017
Decent turnouts are always thought to help Labour.
12.15 Former PPC for Rochester and Strood Naushabah Khan has written for us on her experience of fighting a by-election. She reaffirms the importance of standing up to UKIP, saying that a Labour victory in Stoke could be the perfect platform for a fightback against their politics of divisiveness. We should be getting Copeland's turnout figures very soon.
12.00 Labour's candidate in Stoke Snell tweets his thanks to the volunteers in the seat:
A huge heartfelt thank you to the 100s of volunteers who have helped in the #StokeCentral by-election. You have made our movement proud.

— Gareth Snell (@gareth_snell) February 23, 2017
11.45 On Monday I ventured to Stoke, visiting the Midlands seat to knock on doors, deliver a few leaflets and interview Labour's candidate Gareth Snell. He said that beating Paul Nuttall could spell the end of the UKIP leader, and perhaps even the end of the party altogether. He feels that the by-election vote is a lot bigger than himself. He's probably right.
11.35 However, in Copeland, the race is thought to be too close to call. Bookmakers are unfortunately thinking that the Conservatives are the more likely victors. This would be a landmark loss for Labour, as I said at 10.50, no opposition party has lost a seat to the government in a by-election since 1982. Indeed, it would be unlike the Conservative's victory in Mitcham and Morden, which was triggered by the defection of a Labour MP to the SDP. This caused a further fracturing of the Labour vote. Tory sources are, according to The Guardian, not playing up their chances at the count.
11.20 The general feeling is that Labour are on course to hold onto Stoke, with most bookmakers giving us the edge in the Midlands seat. UKIP's only MP, Douglas Carswell, has conceded that the "most likely outcome is Labour will win" on BBC Question Time. Let us hope he is right.
11.10 Last week, Peter Edwards, LabourList's editor, visited Copeland and interviewed our candidate there, Gillian Troughton. She urged a vote for Labour as the only way to save vital NHS services in the seat.
11.00 Here is an email Corbyn sent to MPs as polls closed, via a Labour source:
Dear Colleagues,
I wanted to write to thank you for all of your work to support the by-elections. At a difficult time for the party, in the midst of the Article 50 debates, our MPs have led the way. Thank you for all you have done motivating members and activists, at our phone banks, supporting our candidates and, of course, hitting the doors day in and day out. Special thanks are of course due to Andrew Gwynne, Sue Hayman, Cat Smith, Jack Dromey and Ruth Smeeth, who have gone above and beyond to lead these campaigns on behalf of the Party. Myself, the PLP, and the whole of the Labour movement owe you a great debt of thanks.
We always knew that these were going to be competitive, close and challenging elections, but with your help we have made the arguments on the issues that matter to working people – our local NHS services, and an economy that works for the whole of the country, ensuring that no one is left behind. We should all be proud of the campaigns we have run, and I have extended my thanks, on behalf of the PLP, to the Party staff who have put their lives on hold and worked seven-day weeks to make the case for Labour.
We will know more once the counts are underway, and of course, colleagues will be kept updated. But for now, thank you again, and I hope everyone has the chance to relax this evening after a long (and wet) day on the doorstep.
Best wishes
Jeremy Corbyn
10.50 It is worth remembering that no opposition party has lost a seat to the government since 1982, when Labour lost Mitcham and Morden to the Conservative party. Let us hope that record isn't altered tonight.
10.40 Ballot boxes have started arriving in Stoke's counting centre. We expect a declaration from the Midlands seat a little sooner than from Cumbria – not least because the latter is much more rural.
10.30 Though, it would seem that anecdotal evidence that weather effects turnout could be a little off. Niamh Ní Mhaoileoin, editor of Left Foot Forward, alerted me to this article, which suggests that in countries like Britain – where voting is relatively easy with polling stations easy to access, poor weather has a negligible effect.
10.20 Jeremy Corbyn has just posted this statement on his Facebook page: "As polls close in Copeland and Stoke, I want to thank everyone who has been out campaigning for Labour. Today, hundreds have braved Storm Doris, as part of two excellent campaigns, with activists pouring in from across Britain."
"The political establishment has let down Copeland and Stoke, who have seen their industries gutted, living standards stagnate and hope for a better future for their children and grandchildren decline."
"Whatever the results, the Labour Party – and our mass membership – must go further to break the failed political consensus, and win power to rebuild and transform Britain."
10.15 Most of the country has been enjoying the wondrous weather of Storm Doris, lashing our islands with rain and high winds. Both Copeland and Stoke on Trent have been effected by this, with many an image on twitter of soggy activists and MPs. The general fear is that poor weather effects turnout, and that this in turn primarily effects Labour's vote more. Let us hope not.
Here's Peter Kyle, Hove and Portslade, alongside Wes Streeting, Ilford North, in Stoke earlier today:
Office mates stick together when the going gets wet and windy! #Stoke #byelection #winningteam pic.twitter.com/m1wR1t3gc0

— Peter Kyle MP (@peterkyle) February 23, 2017
10.00 Hello and welcome to our liveblog! Polls have just closed in the Midlands and Cumbria, with nothing more now that Labour's excellent candidates can do.
Gillian Troughton is our candidate in Copeland, with the other major player the Conservative candidate Trudy Harrison. The Tories ran Labour very close in 2015, with Jamie Reed having a slim 2,564 majority in that election.
In Stoke, Labour's Gareth Snell is challenged by UKIP's leader Paul Nuttall and the Conservative Jack Brereton. In 2015, UKIP came second, 5,179 votes behind Labour's Tristram Hunt. The Tories were only 33 votes behind UKIP, so are by no means out of the running.
Enjoying our journalism? If you love Labour and want to support the best blog dedicated to the party's people and policies then donate here. 
More from LabourList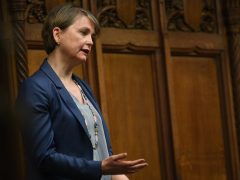 News
Yvette Cooper has become Shadow Home Secretary, Wes Streeting is the new Shadow Health Secretary and Jonathan Reynolds…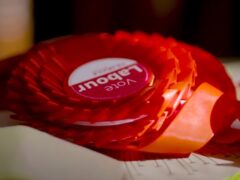 Comment
Membership of the Labour Party matters. At its best, it brings activists identity, community, fulfilment and friendship. But…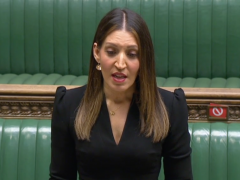 News
The spread of the Omicron variant in the UK is a "reminder that no one is safe until…