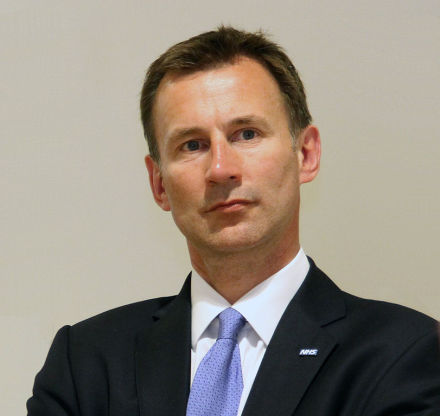 This is the letter sent today by Jon Ashworth, the shadow health secretary, to his opposite number Jeremy Hunt demanding answers over the possible downgrade of the four-hour waiting time target in accident and emergency departments.
Re: Statement on Mental Health and Winter Pressures
I am writing to you following the statement you gave in the House on Monday 9 January regarding mental health and winter pressures in the National Health Service.
In your statement you cast doubt over the status of the NHS four-hour standard in A&Es. Tough targets to ensure patients are treated within four hours are vital; that is why Labour in government introduced them, an achievement of which we are proud.
Unfortunately under this Conservative government A&E waiting times are increasing and the target is being missed. Last year 1.8 million people waited four hours or longer in A&E departments, and according to NHS England, the four-hour waiting time standard has not been met since July 2015.
What patients need now is for the government to take urgent action to improve the situation for patients, making sure they get treated in A&E departments as quickly as possible. Yet in your statement to the House on Monday, you did not set out such a plan. Instead, you raised the prospect of redefining the four-hour A&E waiting time target – "If we are going to protect our four-hour standard, we need to be clear that it is a promise to sort out all urgent health problems within four hours, but not all health problems, however minor."
This particular remark is potentially very worrying, as it could signal a downgrading of the four hour waiting time target, which as you are well aware, is vital to ensuring patients receive prompt care when arriving in A&E departments.
In light of your remarks made in the House on Monday, I am asking you to provide some clarification and to respond to the following questions:
Does the statement made in the House on Monday signal a change in Government policy towards the four-hour waiting time target?
In your statement you referred to patients with more "minor conditions". Could you please provide some clarification on what constitutes a "minor" condition and how these patients would be dealt with once at an A&E department?
Furthermore, could you explain how those with more "minor" ailments visiting A&E departments will be treated if the four hour target is to be revised to include only "urgent" cases?
Has an assessment been made of what impact any revision of the four-hour standard could have on patients presenting at A&E departments?
Do you agree that some people are attending A&E departments because they are unable to get a GP appointment? Can you commit to providing further support for overstretched primary care services in order to relieve the burden on A&E departments?
Will extra mental health staff be funded to assess patients undergoing a mental health crisis, so that an expert clinical opinion can be given on whether the patient qualifies for access to the new downgraded A&E?
What guidance has been issued to GPs about the new access requirements for A&E, the impact for patient flow in general practice, and what has been the response of GP leaders?
Will the entry requirement for a patient to access A&E be the same in every region or every hospital and if not how will the variations be determined?
Will access to A&E be dependent on the availability of GP appointments in the local area?
Will access to A&E be dependent on the availability of mental health crisis appointments in the local area?
Will access to A&E be dependent on the availability of social care arrangements in the local area?
What assessment has been made of the impact of reduced GP availability / social care funding reductions / the abolition of NHS 111 on attendance rates at A&E units and whether he will publish these assessments?
What are the implications for the working relationships between urgent care centres and A&E departments? Will there be cost implications for transporting patients between the two?
What are the workforce implications of changed working patterns at A&E arising from the new access requirements?
Will extra administrative staff be hired to triage non-urgent patients from A&E or will this be a nursing responsibility?
Will the same staff be expected to triage acute and mental health patients or will everyone be subject to the same process? What will be the arrangements for a patient who presents with both acute and mental health emergencies? What will the training requirements be for triage staff?
What assessment he has made of the availability of new staff to carry out changed working patterns – will extra funding be provided to cover agency workers in areas of low staff availability?
What are the cost implications of explaining the new requirements for A&E access to the NHS workforce?
What consultation has taken place with trade unions about the requirements for different working patterns on existing staff?
What are the cost implications of explaining the new requirements for A&E access to the public? Will this information drive be met from existing local NHS budgets or will new money be provided?
Will any additional resource implications fall on local authorities from any of these changes?
What consultation has taken place with the Royal Colleges about the impact of changed access requirements on public safety?
What arrangements will be in place to explain to patients who do not qualify for access to his new downgraded A&E about where they should go instead?
Will people who are turned away be processed onsite at NHS hospitals or will separate processing arrangements need to be put in place? If the latter who will fund these arrangements?
What are the impact of changed A&E access arrangements for Sustainability and Transformation Plans and what consultation has taken place with the leaders of these plans?
Six years of this Conservative government have pushed the NHS into great difficultly. We urgently need a plan to remedy this, not a plan to lower standards in an attempt to politically massage the headlines. Such an approach will only harm patient care in the NHS further.
Given the public interest in this important matter, I am releasing a copy of this letter to the press.
Jonathan Ashworth MP
Shadow secretary of state for health
Value our free and unique service?
LabourList has more readers than ever before - but we need your support. Our dedicated coverage of Labour's policies and personalities, internal debates, selections and elections relies on donations from our readers.
If you can support LabourList's unique and free service then please click here.