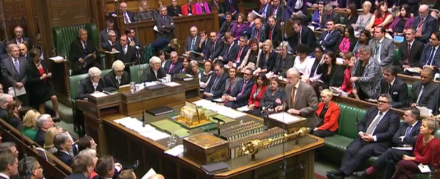 Stung by accusations they don't have a plan, Labour's rebel MPs have let it be known they could form a breakaway grouping in Parliament and seek to claim the mantle of the official Opposition.
You might view it as either pragmatic politics, or ludicrous self-indulgence, depending on your stance towards Jeremy Corbyn – but what is becoming clear is that the centrists don't like repeats.
Yes, they suspect this summer could look a lot like last summer, with Corbyn riding to victory over the Labour establishment with a simple anti-austerity message. But the leader's opponents don't want and don't intend for the following few months to follow the pattern of last year's winter of internal discontent.
They have been jolted into life by the prospect of a Corbyn re-election and the need to provide an effective Opposition. After all, the one thing all sides can agree on is that Labour has not been holding the Government to account effectively in recent months.
The recent emergence of the "semi-split" story – long discussed in the bare offices of demoralised backbenchers in Portcullis House – is a sign MPs are beginning to look to life beyond September 24, when the result of the face-off against Owen Smith is declared.
Last time around, Corbynsceptic MPs seemed to be split into three camps – the "try to make it work" group, characterised by the likes of Smith and Heidi Alexander who took shadow Cabinet jobs; the proactive rebels who were opposed to the leader from the start and began their under-the-radar war immediately; and the demoralised and discombobulated gang who simply had no idea what had hit them.
The divides between the groups have largely evaporated and – with a few exceptions – the main split in the Parliamentary Labour Party (PLP) is now far starker: backbencher or frontbencher; or, to put it in numbers, 172-40.
Corbyn's legion of opponents don't need or want several more months to regroup after the leadership election. The leading members of the anti-Corbyn gang want to get going immediately and are exploring the possibility of three major changes: picking their own leader and shadow Cabinet; applying for recognition from the Commons Speaker as the official Opposition; and even trying to claim ownership of the Labour Party name and assets.
If they just pursued one of the items on this wishlist, the impact would be seismic. It would stave off a formal split – which I have argued would be disastrous for both sides – but entrench the divisions to an even more severe degree than we have seen already. As such, there is no guarantee they will go down this route.
But, if they did, it would prompt a fresh round of chaos with both sides vying not just for the Labour infrastructure but for the right to be heard by a public which has grown weary and sceptical of the infighting of our party.
Corbyn appeared calm when confronted with the prospect of the "semi-split" at the weekend, saying that "if people want to split the Labour party then they're splitting something that was the creation of pioneers to bring about social justice in Britain", but do not be fooled by his insouciance. It is understandable that he looked unsurprised when asked about the latest centrist plan to deprive him of his political influence, and even his job, but he must know that a parliamentary breakaway would be fraught with peril for him as well as the splitters.
Among the membership, Corbyn can be assured of backing from around 50 per cent or more. In parliament, where critics lurk on every Commons corridor, one of the few rewards of office has been access to the funding, advisors and party staff that come with the role of leader of the Opposition. But a "semi-split" could throw into doubt the presence of some of these people and the Short money which pays their salaries. As such, it could see Corbyn carry on with a strong mandate from members but a power base further weakened in Westminster.
Of course, as Corbynistas would argue, a centrist attempt to implement this risky plan would represent a slap in the face for the members if and when they vote the veteran left-winger back into post. If you join a political party, you have to abide by the rules, they would suggest. Centrists would argue they have a duty to the country to form a full and functioning frontbench.
We are living in remarkable times, however, in which both sides of the Labour Party divide keep going long after the point at which they would have been expected to give up. Don't bet on the leadership contest being the end of the matter. Don't bet on a "semi-split". Don't bet against it. Don't bet on not having this discussion again next summer. But prepare for the fact Labour faces another huge fork in the road after September 24.
Value our free and unique service?
LabourList has more readers than ever before - but we need your support. Our dedicated coverage of Labour's policies and personalities, internal debates, selections and elections relies on donations from our readers.
If you can support LabourList's unique and free service then please click here.