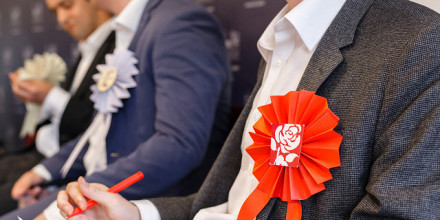 Last night, Labour's general secretary Iain McNicol took the remarkable step of issuing a public correction to what he felt was a misleading statement by the party's shadow Chancellor, John McDonnell. This is the culmination of month's of internal disputes in the Labour Party, and put the level of private unhappiness on show.
The series of interconnected rows encompass fears around party staff's job security, the conference security brouhaha and the handling of the leadership contest.
.@johnmcdonnellMP John, just to clarify you say 'party officials'. Decisions are made by elected NEC members, and not party staff.

— Iain McNicol (@IainMcNicol) August 25, 2016
McNicol's online rebuttal to McDonnell came after the shadow Chancellor, in his role as Jeremy Corbyn's leadership campaign chief, made the incredible claim that a "rigged purge" of Corbyn supporters is being carried out by "party officials". Claims of politically motivated suspensions were a staple of last year's leadership election – although were never proven – and have re-appeared in the current vote, coming to a head with the blocking of Bakers' Union boss Ronnie Draper yesterday.
But the decision to respond to this allegation in such a way illustrates how McNicol now feels the need to make a bigger show of defending his employees. Only a week ago, over 100 former party staffers signed an open letter condemning the "intolerable" treatment of Labour's current workers, amid anonymous briefings in the press about a motted "clear out" of personnel at the Southside HQ.
However, this was followed by further stories over the weekend which went so far as to name individual staff members in Wales who could be for the chop if Corbyn is re-elected. This brought an angry response from Welsh Labour leader Carwyn Jones, who vowed to protect their jobs.
Corbyn attempted to calm the situation on Tuesday by sending out an email to party staff in which he described attacks on them as "unacceptable". But some party insiders last night saw his efforts as weak amid what they saw as an obvious implication of bias in McDonnell's comments yesterday.
These episodes are increasingly taking their toll on staff members, with growing stories of people being encouraged to leave the hostile working environment by family and friends. It is in this context that McNicol saw fit to make his unprecedented public intervention, in order to defend other party officials in a way they cannot do themselves.
Yet among Corbyn's supporters, there is a growing belief that McNicol presides over an infrastructure fundamentally hostile to the leader, of which the "purge" story is emblematic.
Occasionally, this does appear to involve some conflation of the National Executive Committee (NEC) – on which McNicol sits but without a vote – and the party staff, which he manages. The NEC manages the Compliance Unit, which normally vets new members and which McDonnell proposed abolishing in February, and the process is handled by two three-person NEC panels during the leadership contest. However, the panels are operating under guidance on abuse laid out by McNicol last month, which some supporters of the leadership believe unfairly targets them.
The Corbynite wariness of the NEC, and its perceived complicity in an anti-Corbyn party machinery, largely derives from the controversial meeting in July to determine the contest's rules and McNicol's subsequent defence of the decisions taken during the court cases that followed. During that time, Corbyn's campaign hit out at the general secretary's actions, with McDonnell saying they were "appalled" at the appeal lodged against the High Court ruling. McNicol, in turn, said he was "delighted" when the appeal was upheld.
The high-profile NEC meeting, which agreed Corbyn's place on the ballot, saw security put in place outside Labour's London HQ – days after a pro-Corbyn rally outside Welsh Labour's HQ had raised some concerns for staff safety. Corbyn himself has always condemned threats of violence.
At the controversial NEC meeting it was decided to impose a £25 fee on registered supporters and to backdate six-month membership freeze. Corbyn's backers claim they were raised late in the lengthy session after some NEC members had already left.
It was in a similar circumstance that Labour's ruling body adopted the policy that has led to its current problems with regards to security at the upcoming conference: according to insiders, it was hours into an interminable committee meeting that the boycott of G4S was voted on. Some members had gone, while another is thought to have been on a toilet break.
Even that row, though, has fed into the confrontation between the party's structures and its leadership, and how it is beginning to spill over into the wider labour movement.
Leaked correspondence between the GMB's Tim Roache and Unite's Len McCluskey on the issue reveals that Roache is less than happy with Unite's handling of events – the latter union is a proponent of the G4S boycott, which others believe has led to the possibility of Labour doing a deal with Showsec, who are in a dispute with GMB.
McCluskey's response, in which he said that "blame would lay squarely at the feet of Iain McNicol" should GMB decide to picket conference, showed how deep the dissatisfaction runs – and it should be noted that McNicol is a former GMB officer.
What all of these struggle are essentially a proxy for is the battle to command Labour's machinery. Elements of the Corbyn project believe it is vital to their success that they are able to gain power over the party's bureaucratic structure, and that is why rumours of a move to displace McNicol as general secretary have gained some impetus.
Such a drastic move would be a matter for the NEC and, despite recent Corbynite gains, remains seriously unlikely. Corbyn may now have a small majority in support of him on the committee, but that includes several "soft" backers who would baulk at some of the more controversial reforms, such as mandatory re-selection, currently being whispered to the media. Efforts to replace the general secretary would be even less popular, and so are unlikely to be pushed forward with yet. But a Corbyn leadership emboldened by re-election may see opportunities to take greater control of the party's levers further down the line.
Value our free and unique service?
LabourList has more readers than ever before - but we need your support. Our dedicated coverage of Labour's policies and personalities, internal debates, selections and elections relies on donations from our readers.
If you can support LabourList's unique and free service then please click here.